Institutional Web Management Workshop 2009
Quiet Area
This year we propose to have a quiet area for those not so keen to participate in use of mobile devices and networked technologies.
This area will also be appropriate for those who would like to avoid being filmed during the video streaming. Note that audience footage is likely to primarily consist of long shots except for when questions are being asked by delegates during the Q&A sessions.
We request that participants do not take photographs of people who are located in the Quiet Area.
The quiet area will be the balcony of the Ivor Crewe lecture theatre, reachable by the back entrance on level 2.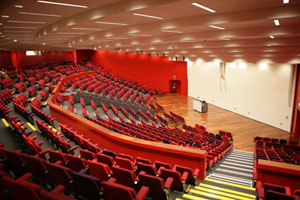 Photo courtesy of University of Essex Conference Office.
Acceptable Use Policy
Note that there is an Acceptable Use Policy for the event.