5:25 pm in plenaries by kirsty-pitkin
The final plenary of this year's event focused on practical activities undertaken by web managers and featured three short presentations discussing particular technologies.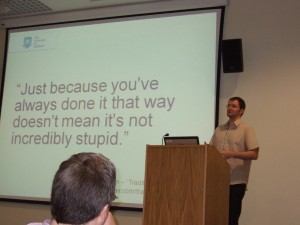 The first to present was Richard Brierton from the University of Sheffield, who gave a talk entitled: "Replacement CMS – Getting it right and getting the buy-in". The University of Sheffield has been using Polopoly since 2003, and last year upgraded to version 9. The change between versions was so significant that it was effectively like moving to an entirely new product. Brierton discussed some of the common issues connected with using and changing CMS, and some of the measures they have taken at Sheffield to ensure user buy-in.
He began by discussing some of the common (and to many, quite familiar) criticisms users have of content management systems, the most repeatable of which was: "CMS is a catastrophe – the interface is clunky, slow and unattractive". Brierton highlighted how easy it is to blame the CMS when users complain about changes, particularly when the users already have this attitude to the product. However, he emphasised that if you change something, it is not the CMS's fault, it is your fault for changing it, and if you do choose to change aspects of your CMS, you have to bring the users with you in a positive way. He described CMS as the "promised land that we need to get people to" and outline some of the measures his department have taken towards this, including keeping the users informed about the process via blogs and demonstrations.
Brierton also discussed some of the reasons that web teams themselves often feel frustrated by CMS. Prior to the use of CMS, the number of users creating web pages was quite small, and they needed specialist skills to be able to do so. CMS effectively lowers the bar to web page creation, so there are now more users with a lower level of technical skill, who now need supporting in their use of CMS. He emphasised that no one approaches the task thinking "I want to make a really bad web page", but this lower level of technical skill means that they will need more support and more careful thought about the configuration of your CMS to prevent unnecessary complexity for your users.
Brierton outlined his 7 commandments of CMS as a summary of his department's ethos:
Keep the 90% in mind all the time – keep the majority of users in mind, not just the techies
One voice – we are not a coalition
Training is cheap – it is the most cost effective way to improve your website
Content is expensive – do not be tempted to get people to re-do their content when you move to a new CMS, as it is easy to forget that the content is the most expensive bit of your site to produce
Editors will often best-guess if unsure – so it is important to remember that if your CMS is unclear in any way, people will not necessarily ring for support, they will have a stab, and this should inform your design
Avoid unnecessary flexibility – if features are not really necessary, remove them
Most editors don't care – the content providers are not passionate about the web, as it is not their job, they are just passionate about their content
To conclude, Brierton described the gradual process they are doing to roll out their new CMS – department at a time, so that they can ensure everyone is onboard and comfortable with the system, and to identify problems as they go along with a smaller set of users, rather than being hit with all of the problems in one go. This was the most painless route they could see to successfully getting it right and getting the buy-in.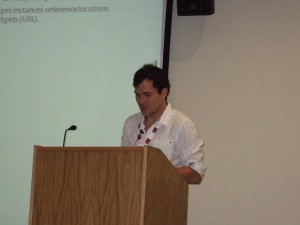 Second to speak with Josef Lapka from Canterbury Christ Church University. Lapka introduced their latest project: StudentNET Portal, which received considerable admiration from the audience via the Twitter backchannel.
The system began life as an online student re-enrolment system, developed to address the problem of students failing to re-enrol each year. After attending IWMW in 2007, Lapka's team were inspired to bring this system together with all of their ideas about supporting the student to create a portal service. Their challenge was to build a tool that was consistent, engaging and interesting that helped the university to build a relationship with students throughout the course of their involvement with the university.
Lapka outlined the various options they considered, including Sharepoint and in-house development, but the team finally chose to use Drop Things as their base – an open source framework that the aggregating service PageFlakes is based upon. This allows them to give students three zones on their own personalised web page: an app area, a fixed content side area and a regular widget zone. The architecture of the system is so granular that they can send individual messages to communicate with specific users or groups of users using widgets. Changes can happen in realtime, with a maximum of a 30 min delay.
Lapka also described how easy it was to transfer from their old systems to this new portal – as the old systems can be compressed into widgets, making migration relatively easy and free from re-coding. Now the framework is in place, they can continue to add new features by developing new widgets, which can take 5-10 days to build, making it very easy to improve and respond to user requirements on an ongoing basis.
To conclude his presentation, Lapka gave a practical demonstration of the site, showing how students can personalise their portal space and bring in their own content using an RSS feed widget to make it a more useful to them.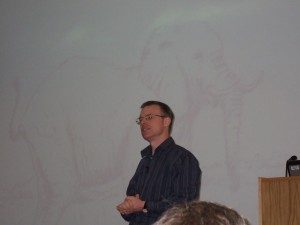 In the final slot of practical discussions, James Lappin and Peter Gilbert discussed the impact of Sharepoint in higher education in an open conversation. They noted the scale of the product and used the analogy of an elephant to explain the wide range of reactions to it. They explained that a Hindu proverb, in which six blind men are taken to touch an elephant, but all touch different parts of the elephant's body, and so come away with different ideas about what an elephant is like. They related this to Sharepoint, a similarly very big system, comprising of many different systems, so people generally only look at specific parts.
The pair discussed the ubiquity of Sharepoint, quoting that 90% of HEI are making some use of it for some purposes. It is usually used for intranet services, rather than external web services, but there are other divides within its use profile, including a higher rate of use by admin and research departments, and lower levels of adoption within teaching and learning.
They moved on to discuss the reasons for its high level of use within HE. Gilbert explained that Sharepoint use has grown by two methods: dictate, and by stealth. In explaining his remark about stealth, Gilbert noted that Sharepoint has been added to the Microsoft Campus Agreement which most institutions use to licence their software, so it is often just there, and therefore gets used when a need arises.
In discussing the criticisms and practicalities of using Sharepoint, the pair noted that branding can often be difficult due to the large number of stylesheets, which is often one of the reasons why it is more popular for use as the basis of an internal system, rather than an outward facing websites. They also commented that this aspect has been improved in the 2007 and 2010 versions.
The use of Sharepoint within research has been a relatively new and interesting development. Lappin and Gilbert explained that there are currently not very many solutions within the research market, and as researchers often want to share and communicate with other researchers in other institutions, the benefits of using such a widely established system are quite clear.
The pair concluded by observing that Sharepoint, like an elephant, has a massive ecosystem around it, so like it or hate it, it is an almost unavoidable system.
Richard Brierton's slides are available on Slideshare here.
Josef Lapka's slides are available on Slideshare here.
Peter Gilbert and James Lappin did not use any slides for their presentation (just a large image of an elephant!)