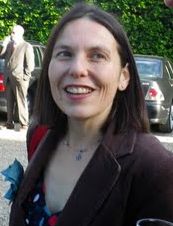 I'm Marieke Guy. I've been with UKOLN for 11 years working on lots of different projects connected to the Web, organising stuff on the Web, preserving stuff on the Web, using Web tools and so on.
I'm currently working on a number of projects:
IMPACT,  a European project that aims to speed up the process and enhance the quality of mass digitisation in Europe
The JISC Observatory, a JISC-funded initiative to systematise the way in which the JISC anticipates and responds to projected future trends and scenarios in the context of the use of technology in Higher & Further Education, and Research in the UK.
Greening Events II, a small exploratory project into how to minimise the sustainability impacts of academic related events.
I've been attending IWMW since 2000 and have been co-chair with Brian Kelly since 2006.  I do a lot of the organisation, pull together the programme, create the Web site and blog and add my feminine touch to the event!