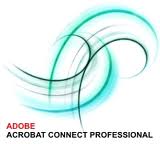 This year we are trying something a little different and will be using Adobe Connect to stream the plenary talks. One of the key reasons for us using Connect, rather than another live streaming service, is that we feel it provides a unified space for the end user: it pulls together video of the speaker, a twitter feed for the plenary hashtag, slides for the plenary and a chat facility
Adobe Connect is based on Adobe Flash technology but an app is also available that will still let you watch the streaming. It is marketed as a "complete enterprise webinar solution to increase attendance, boost response rates, and generate more interest through rich and engaging, highly-interactive and impactful online events". Collaborate, who deliver live webcasting and web conferencing, have sponsored our use of the software.
To test your set up and see that your browser is enabled for Adobe Connect go to the
IWMW 2011 Video Streaming page
.
The live link will be available from this page before the start of the event.
Note that the session will be recorded, including all chat comments, so think about what you say!
If you have any questions about the service please contact:
Pauline Foley
Sales Manager
Tel: +44 (0)1483 685008
Mobile: +44 (0)7787 269643