Institutional Web Management Workshop 2011:
Responding to Change
Sponsors
The Institutional Web Management Workshop series provides an opportunity for members of institutional Web management teams within (primarily) the UK's higher education community to enhance their professional skills, to learn from their peers and to share best practices across the community.
The spirit of sharing is helped by the opportunity for social networking that is provided at this annual event.
The event is supported by a number of sponsors, both commercial and academic, of the event who help to contribute to the range of activities provided at the workshop.
If you are interested in finding more about the sponsorship packages please contact events@ukoln.ac.uk.
Details of the IWMW 2011 sponsors are given below.
TERMINALFOUR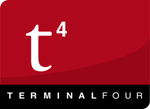 TERMINALFOUR is a leading provider of Web Content Management Solutions (WCMS). Our flagship software, TERMINALFOUR Site Manager, is a WCMS specifically built for Higher Education. Our software enables organizations to improve the creation, flow and delivery of accessible information through various channels including Web sites, personalized student/staff portals, intranets, extranets and utilizing technologies such as Smart Phones. The software provides you with a large number of modules specifically built for Higher Education, including course catalog and prospectus publishing but also integration points with solutions such as Blackboard, Sungard/Banner, Oracle, Angel and Datatel. We have a strong presence within the Higher Education sector powering thousands of individual Higher Education websites and empowering more than 10,000 HE users to manage their website content.
For more information please contact info-uk@terminalfour.com.
TERMINALFOUR have been sponsors of the Institutional Web Management Workshop for a number of years now. At IWMW 2011 they sponsored the badges and lanyards.
Statistics into Decisions

Through clearly comparable statistics and analysis, Statistics into Decisions provides its clients with unrivalled insight into their campaigns and online activity. Their underlying ethos is to bend the technology available to fit into your requirements, rather then you having to bend to fit the technology.
Whether it is web analytics, email, paid search or any other campaign – all should be optimised and comparable.
Statistics into Decisions sponsored free delegate places at IWMW 2011.
Navopia
Navopia provides usability testing, prototyping with Axure RP, information architecture consultancy, and usability auditing (expert reviews). Navopia is passionate about the user experience. We listen to what you want and need, and are commited to excellence.
Navopia sponsored free delegate places at IWMW 2011.
Collaborate

From content creation and delivery, live webcasting and web conferencing through to on-demand media management our solutions and services are designed to improve the flow of knowledge to staff, learners and students whether they are located at home, on the move or at satellite locations.
Our unique focus and experience means we are able to assist you in identifying and prioritising virtual learning and collaboration solutions, which will meet your current and future needs. We will recommend the "best in class" options and support an evaluation period. Then Collaborate will provide you with the ideal solution and services that ensure a swift adoption process throughout your organisation.
Collaborate was founded at the inception of virtual collaboration solutions and are the company behind many notable enterprise wide implementations across Education, Government and Corporate markets.
For more details contact:
Pauline Foley, Sales Manager
Tel: +44 (0)1483 685008
Mobile: +44 (0)7787 269643
Collaborate supported the video streaming at IWMW 2011.
Exhibition
The IWMW 2011 event featured a small exhibition in the refreshment area.