The time has come to close the IWMW 2011 blog as we no longer intend to publish any more significant posts. The blog will remain here as a resource for you to use though comments have now been closed.
Blog Statistics
We are publishing the following statistics for future reference. They are intended to inform others about the lifecycle of the blog.
Use of the Blog
Active Dates: Posts were published on this blog between 8th June 2011 and 1st September 2011.
Number of posts: 59 published posts, 12 of which were guest posts.
Number of comments: 35 comments were published, consisting of 3 comments and 32 automated ping messages.
Usage statistics: Between 5 July and 31 August there were 1,418 visits to the blog and 2,471 page views. There were 157 visits on 25 July, the day before the start of the IWMW 2011 event. A graph of the usage statistics are embedded below.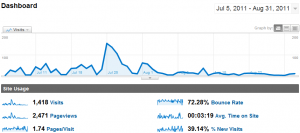 Browser usage: The following browsers were used: Firefox (47%), Chrome (25%), Safari (13.7%), IE (13.3%), Mozilla Compatible (5.4%), Android (2.2%), Opera (0.3%), Blackberry (0.2%), IE (0.2%) and Mozilla (0.1%).
About the Blog
Users: 5 Administrators, 2 authors, 6 contributors, 7 subscribers.
Akismet statistics: 328 spams caught and an overall accuracy rate of 99.18%.
Details of blog theme: Twenty Ten 1.2 by the WordPress team
Details of plugins used: Akismet, Embed Object, Google Analytics
Details of type and version of software used: WordPress (3.2.0).
Blog licence: This blog is licenced under a Creative Commons Licence (Attribution – Non-commercial – Share Alike). Comments are also covered under this licence.
Right Hand Sidebar widgets: About this blog, search, recent posts, calendar, Admin, Twitter widget, Licence.
Look-and-feel: The blog home page is illustrated below.