Live Video Stream at IWMW 2010
In order to maximise impact of the event and enhance discussion and debate of ideas we will be amplifying the plenary talks through use of a  live video stream.  This service is being provided by the University of Sheffield. Access to the live video stream will available via the University of Sheffield Web site.
We would like to encourage Web teams who cannot attend this year's event to watch the talks together and participate in the Twitter discussions.
Full information on the streaming service is available on the Video Streaming page on the IWMW 2010 site.
Treating the Remote Audience as First-Class Citizens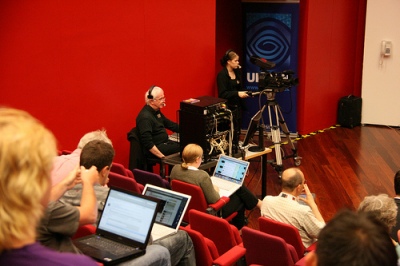 As has been the case in previous years (have a look at these blog post to get a feel for what happened last year) we aim to treat the remote audience as 'first-class citizens' at the event. We will therefore:
Promote the address for the live video stream.
Promote the event hashtag (#iwmw10) to encourage  discussions on the Twitter channel.
Ensure the sound levels will enable the remote audience to hear the plenary speakers .
Ensure the questions from the local audience are asked using a microphone.
Encourage  questions from remote audience.
Is there anything else we need to be doing? Please do let us know.
Evaluating the Remote Audience's Experiences
As described previously this year we will also be supporting the JISC Greening Events project which has an interest in ways on which remote participation in events can support an organisation's greening agenda. We hope that those who are participating remotely will be willing to share their experiences with ourselves and the JISC Greening Events project.
The JISC-funded Greening Events project will be conducting an exploratory investigation on ways of minimising the sustainability impacts of academic events (such as conferences and seminars, training, administrative and project related events) while gaining the maximum benefit from them. In addition to  interviewing a number of the remote attendees the project team also intend to analyse the  Web log data in order to monitor the locations of the remote audiences and the time spent viewing the video stream.
If you want to find out more about the project please contact Paul Shabajee.