10:00 am in community by b.kelly
As might be expected many participants at IWMW events are following the IWMW Twitter account. We use this account to keep participants informed of news and developments. We have also set up auto-follow so that the iwmw account will automatically follow new followers (although we will unfollow those who aren't directly involved in the IWMW event).  This will allow us to send direct messages (DMs) if there is need to do this (such usage is only envisaged in case of emergencies).
The links between the IWMW Twitter account and the followers will also enable us to evaluate and exploit the potential of new Twitter developments.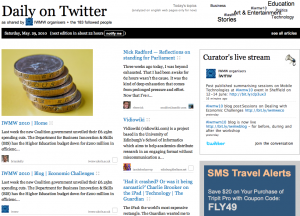 In our initial experiment we have used the paper.li service to create a daily newsletter based on links shared by IWMW and IWMW followers.   So if you visit the paper.li iwmw page you will see a page which has been generated based on the links which have been posted on the IWMW Twitter feed (typically, so far, links to blog posts and pages on the IWMW 2010 Web site).
But in addition it will also display content from links shared by our followers – and, as can be seen from the image, this provides a much more diverse range of content. As there is so much content which the paper.li service can analyse I was interested to note that it has started to auto-classify the contents of the posts, with headings such as Education, Technology and #mobile being featured (and shown in the top right hand content of the screen shot). I've also noticed that the advertisement on the page can be related to these headings.
We have also created  a paper.li page for the #iwmw10 event hashtag which displays the content of links which have been posted using this hashtag. Currently the page contains summaries of posts to the IWMW 2010 blog, but in the days prior to the event and during the event itself we might expect to see a greater range of content, including content from IWMW 2010 participants who are posting links related to the event.
Over the years in which we have been organising the IWMW series of events we have been pro-active in helping to support the Web management community – which has developed, I feel,  into an effective community of practice. I wonder whether seeing the resources which are being posted on Twitter will provide another way in which mutual areas of interest can be identified and, perhaps, contacts established?
I'll be very interested to see how the contents of the auto-generated daily newsletters evolve over time – and especially over the period 12-14 July, during the three days of the IWMW 2010 event.