Institutional Web Management Workshop 2010
Parallel Session A5: Usability and User Experience on a Shoestring
Title:

A5: Usability and User Experience on a Shoestring

Session Tag:

#A5

Time:

Monday 12th July 2010 16:00-17:30

Facilitator:

Stuart Church, User experience consultant.

Abstract:

Even in a positive economic climate, investing resources into usability or user experience (UX) work is often seen as an expensive luxury by organisations. With public sector budgets likely to face a major squeeze over the next few years, how can we continue to ensure that our websites are as effective and engaging as they can possible be? In this interactive workshop, we will explore ways in which user experience methods can be made more cost-effective yet still provide tangible benefits; for example, by adopting low-cost 'guerilla' methods for user research and evaluation and adopting a more user-centred philosophy within an organisation.
Contact Details
Biography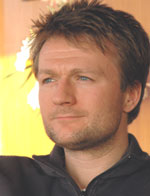 Stuart Church is a user experience consultant based in Bristol, U.K. His consultancy, Pure Usability, has provided user research, design, training and strategy services for numerous public and private sector clients. These include JISC, HEFCE, the Arts and Humanities Research Council, The University of Bristol, the Nuclear Decommissioning Agency, Marks and Spencer, E3 Media, Process Management International and Zircadian. In 2005, Stuart helped to set up and organise the Cambridge Usability Group before relocating to Bristol, where he is now helps to run the Bristol Usability Group.
Materials
Session Report
A report on the session, written by Linda Bewley, is available on the IWMW 2010 blog.