Institutional Web Management Workshop 2010
Plenary Talk P8: The impact of SharePoint in Higher Education
Title:

P8: The impact of SharePoint in Higher Education

Session Tag:

#P8

Time:

Wednesday 14 July 09:15-11:00

Speaker:

James Lappin and Peter Gilbert, University of the West of England.

Abstract:

Microsoft's SharePoint has seen a massive uptake in UK Higher Education Institutions. The vast majority of institutions are making some use of SharePoint to some extent. Some have used it for their website, some for their intranet, some as a student portal, many for team collaboration and document sharing. A small number of HEIs are even using it as a VLE. This upsurge in usage has occured relatively suddenly. The HEI community has had little opportunity to reflect on both the opportunities, and the threats, that the rise of SharePoint poses.

In this session James Lappin and Pete Gilbert will answer questions on the nature of SharePoint, its strenghts and weaknesses, and the uses that HEIs have been making of it.

James researched the usage of SharePoint in UK Higher Education in a Northumbria University research project (funded by Eduserv). Pete has led an innovative SharePoint implementation at the University of the West of England.
Contact Details
Biography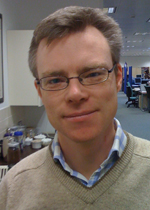 James Lappin is a records management consultant and trainer. He writes on records management topics for his blog Thinking Records.
James is the co-author of Northumbria University's 'Investigation into the use of SharePoint in UK Higher Education Institutions' published in January 2010. He is an accredited trainer for the European Commission, for whom he provides records management training.
James obtained his MA in Archives and Records Management at UCL in 1994, after which he held records management roles at The National Archives, the London Borough of Hammersmith and Fulham, and the Wellcome Trust. He worked as a consultant and trainer for TFPL between 2004 and 2008, before founding his company Thinking Records, at the start of 2009.

Peter Gilbert is a SharePoint evangelist and "developer" working at UWE. He works in SharePoint technologies using C#, InfoPath, Skelta and blog about their good and bad points. In his "spare" time he is an artist and photographer and helps organise the Southbank Bristol Arts Trail as well as running other arts events throughout the year.
---
Recommend This Session to Others
Would you like to recommend this session to others? We are currently evaluating the OpenLike service which "provides a user interface to easily give your users a simple way to choose which services they provide their like/dislike data".
If you'd like to share your interests with others, or would simply like to try about this application, then simply click on the appropriate icon which should be shown below. Note that the OpenLike service provides an interface to Hunch, Digg, Reddit, and Stumbleon.
Note that by clicking "Like" we suggest that you interpret this as recommending the content of the session to others (rather than, for example, you like the appearance of this page!).
Materials
Note there were no slides for this plenary and that due to technical problems no video is available.
Final Report

Investigation into the use of Microsoft SharePoint in HEIs [Online Version]