Institutional Web Management Workshop 2010
Plenary Talk P3: HTML5 (and friends)
Title:

P3: HTML5 (and friends): The future of web technologies - today

Session Tag:

#P3

Time:

Tuesday 13 July 09:00-09:45

Speaker:

Patrick Lauke, Web Evangelist, Opera Software ASA.

Abstract:

There is currently a lot of buzz around HTML5, the next evolutionary step of the very foundation on which we build our websites. New markup constructs, new JavaScript APIs, and the prospect of powerful functionalities built right into modern browsers to make our lives as developers that much easier.

But with new technologies also come new challenges: when will all these features be available in all browsers? And what about older browsers? Is it safe to start using HTML5 now, or should we wait until the specification is final? Do we have to re-learn everything we know about HTML?

In this talk Patrick will take us on a whirlwind tour of HTML5 (and other associated technologies often lumped together under this term), addressing the most common concerns that developers may have about it, and offer a glimpse of the new possibilities offered by this exciting new web standard.
Contact Details
Patrick Lauke
Opera Software ASA
Waldemar Thranes gate 98
Oslo
Norway
NO-0175
Phone:
+47 (0) 23 69 24 00
Fax:
+47 (0) 24 16 40 01
Email:
patrickl@opera.com
Biography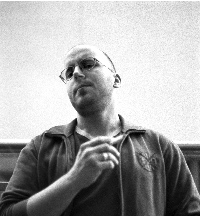 Patrick Lauke works as Web Evangelist in the Developer Relations team at Opera Software ASA. In a previous life he worked as Web Editor for the University of Salford, where in 2003 he implemented one of the first thoroughly web standards based sites in the sector.
Patrick has been engaged in the discourse on standards and accessibility since early 2001 - regularly speaking at conferences and contributing to a variety of web development and accessibility related mailing lists and initiatives such as the Web Standards Project. Published works include a chapter in Web Accessibility: Web Standards and Regulatory Compliance, released by Friends of Ed in 2006, as well as various articles for .net magazine, where he sits on the advisory panel.
An outspoken accessibility and standards advocate, Patrick favours a pragmatic hands-on approach over purely theoretical, high-level discussions. "I'm an idealist by nature, but a pragmatist by trade. I'd never class myself as an expert and I certainly don't have all the answers...I'm just an opinionated guy eager to find real world solutions 'where the rubber meets the road'."
His personal corner of the web can be found at http://www.splintered.co.uk.
Materials
Please note that the presentation is available on the Slideshare repository.
Note that a video of the session is available on the Vimeo video sharing service.
In addition the video is also available in WebM format on the Archive.org and is embedded below.
An experimental service called ITitle developed by Martin Hawksey, RSC Scotland North and East which provides a video of the talk with Twitter captioning is available and is embedded below.
---
Recommend This Session to Others
Would you like to recommend this session to others? We are currently evaluating the OpenLike service which "provides a user interface to easily give your users a simple way to choose which services they provide their like/dislike data".
If you'd like to share your interests with others, or would simply like to try about this application, then simply click on the appropriate icon which should be shown below. Note that the OpenLike service provides an interface to Hunch, Digg, Reddit, and Stumbleon.
Note that by clicking "Like" we suggest that you interpret this as recommending the content of the session to others (rather than, for example, you like the appearance of this page!).
---
NOTE
Note that although this page initially validated to the RDFa+HTML DTD once the Slideshare resource had been embedded the embedding mechanism has resulted in a failure to validate, although the page should still render correctly.