11:43 am in barcamps by kirsty-pitkin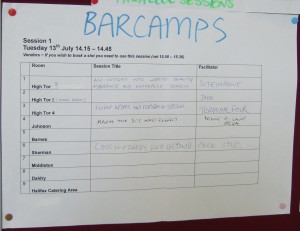 This year we plan to help our remote audience get more actively involved by running their own online BarCamp.
There are 2 x 30 min BarCamp sessions, which are scheduled to take place between 14:15 and 15:30 on Tuesday 13th July. Physical delegates will be suggesting their own topics and gathering in like-minded groups to discuss and learn from each other. Now our online delegates can do the same by gathering in the event Live Blog for their very own BarCamp.
We are looking for volunteers to run sessions, so if you are a remote participant and have something to share, please leave a comment on this post, or send a tweet to @iwmwlive.