Institutional Web Management Workshop 2009
Final Delegate Information
Please find below final information for the IWMW 2009 event.
Venue
The conference will take place on campus at the University of Essex. The main sessions will all take place in the main campus, primarily in the Ivor Crewe Lecture Hall. Information on travelling to the venue and a number of maps of the campus can be found on the IWMW 2009 travel page. All venues are given on the campus map of Colchester Campus. A specific map for the event is also available (PDF Format).
Registration
Registration will take place in Ivor Crewe Lecture Hall Foyer (see campus map) from 10.30 am until 11.45 am on Tuesday 28th July.
A registration/information desk will be available throughout the conference.
To contact the workshop organiser Natasha Bishop before the event email events@ukoln.ac.uk or call 01225 386256. from 27th July, or if you would like to leave a contact number for urgent messages, call 07881 405 673 (this is the UKOLN events mobile).
Parking
You will have been emailed a parking permit. If you require this please print it out and bring it with you to the conference. The nearest car park to the accommodation check in is Car Park B. Please note that if you do not display your parking permit you will be clamped!!
Parallel Sessions
You should have registered for your parallel session when you filled in your booking form. Information regarding the allocation and location of parallel sessions will be available in the envelope you will be given with your pack. If you have not been issued a choice then please speak to someone at the registration desk. Please contact Natasha Bishop (events@ukoln.ac.uk) if you have any questions.
If you have not yet booked your parallel session then you will be able to choose from the sessions that still have spaces available when you register for the workshop on Tuesday 28th July. Please note that many sessions are now full.
Barcamps
Information regarding the format and location of barcamps will be available from the information desk. Further information can be found on the IWMW 2009 Barcamp page.
Quiet Area
This year we propose to have a quiet area for those not so keen to participate in use of mobile devices and networked technologies.
This area will also be appropriate for those who would like to avoid being filmed during the video streaming. Note that audience footage is likely to primarily consist of long shots except for when questions are being asked by delegates during the Q&A sessions.
The quiet area will be the balcony of the Ivor Crewe lecture theatre, reachable by the back entrance on level 2.
Network Usage
Delegates should have given information on the type of network connection they will require during the workshop when they filled in the booking form. Delegates who are part of the Eduroam system will be able to use their normal login and password. Those that are not part of Eduroam can request a user name and password for the duration of the conference at registration. More information on the network (including WiFi hotspots) is available on the IWMW 2009 Network page. Please note an acceptable use policy is in place for this event.
Accommodation
Ensuite accommodation for speakers and delegates will be located on the University campus in Walton Court. The accommodation is situated in the South Courts.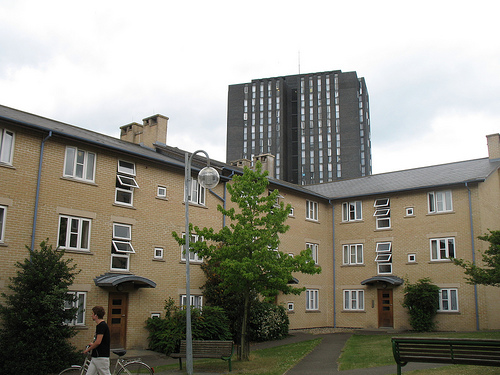 Photo courtesy of University of Essex Conference Office.
Ensuite accommodation for speakers and delegates will be located on the University campus in Walton House. The rooms are basic single student rooms. Towels, bedding, a pillow pack (shampoo and shower gel), are provided. Tea and coffee facilities are available in the kitchens on each floor of the accommodation.
Although there is an Internet connection and phone in your room, these are only for use by students in term time. The telephones only accept incoming calls.
All meals will be provided at the conference up to and including breakfast on 30th July. Breakfast and lunch will be served in the marquee opposite the Ivor Crewe Lecture Hall. All tea and coffee breaks will be in the Ivor Crewe Lecture Hall.
Breakfast for those who have requested an extra night's accommodation will be held in "Food On 3" campus map)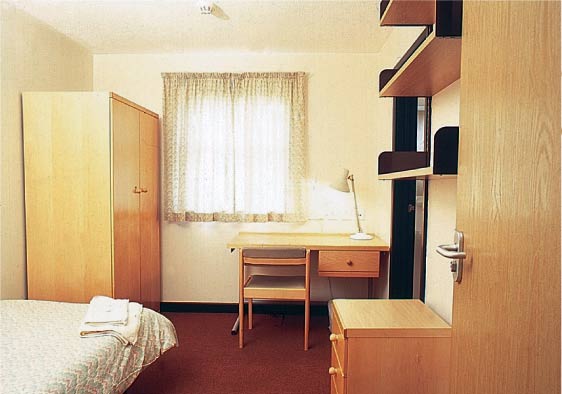 Photo courtesy of University of Essex Conference Office.
Check In
Monday 27th July For those delegates who have requesd an extra night's accommodation 27th July you will be able to check in at the Conference Office Registration from 2pm. The office is situated in Square 3 (see campus map).
Tuesday 28th July Delegates arriving for the main conference on 28th July will be able to check in from 10am. Check in will be in a tent at Car Park B until 1pm and then will be at the Conference Office Reception.
It is suggested that delegates arriving by car leave their luggage in their cars until they have checked in to avoid having to carry bags around campus.
Check Out
Check out will be at any time on the Thursday morning and delegates will be able to check out after the conference itself. There will be a key drop available and space will be provided for bag storage. Please note - Any keys not returned will incur a £50 charge.
Social Events
The social events are included in your registration fee. On the first evening (Tuesday 28th July) there will be drinks followed by a conference dinner which will be held in a marquee on the lawn opposite the Ivor Crewe Lecture Hall (see campus map), on campus. Drinks will be served at 7 pm with dinner at 7.30 pm. Entertainment will take place after dinner with a cash bar available until 2am.
On the second evening (Wednesday 29th July) there will be a drinks reception at the Moot Hall in the centre of Colchester. Coaches will be provided to take delegates to the Gallery and will pick up from Car Park A on campus near the accommodation at 6.45 pm sharp. The drinks reception begins at 7 pm and afterwards there is free time in which delegates can eat at one of the many restaurants in Colchester.
Please note that delegates will have to make their own way back to campus by bus or taxi. Further details on the social events including restaurants and transport information are available from the IWMW 2009 social page.
If you have any questions regarding this information please contact events@ukoln.ac.uk.
We look forward to seeing you in Colchester.