Institutional Web Management Workshop 2009
About the Sponsorship Programme
The Institutional Web Management Workshop series provides an opportunity for members of institutional Web management teams within (primarily) the UK's higher education community to enhance their professional skills, to learn from their peers and to share best practices across the community.
The spirit of sharing is helped by the opportunity for social networking that is provided at this annual event.
The event is supported by a number of sponsors, both commercial and academic, of the event who help to contribute to the range of activities provided at the workshop.
If you are interested in finding more about the sponsorship packages please contact n.bishop@ukoln.ac.uk.
Details of this year's sponsors are given below.
TERMINALFOUR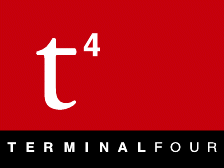 TERMINALFOUR is a leading provider of highly functional Enterprise Web Content Management Systems, eForms and Self Service software and associated professional services to Universities and Colleges. Our software enables organisations to improve the creation, flow and delivery of information through various channels including Web sites, personalised portals, intranets, extranets and utilising emerging technologies. The company has a strong presence within the higher education sector with 46 major projects completed to date; 30% of the top 50 Universities in the UK use Site Manager as their key university wide web content management system.
TERMINALFOUR have sponsored the delegate bags, badges and lanyards.
Jadu
Jadu is a leading developer of Enterprise Content Management (ECM) systems, delivering accessible, non-technical Web sites, intranets and Google Search with full standards compliance. Jadu also delivers a broad range of applications including:
Jadu CMS - a non technical content management and publishing solution
Jadu Intranet 2.0 -combines simple, non-technical content management with the power of 'Web 2.0' technologies.
Jadu XForms Professional - provides a revolution in online service delivery
Jadu Rupa for Google - enables users to harness the power of the Google Search Appliance and Google Mini - through one search interface.
Jadu Galaxies - a new approach to CMS delivery, enabling webmasters and site editors to design, build and manage multiple websites through a single interface.
For more information please contact marketing@jadu.co.uk or 0116 253 3423.
Jadu have sponsored the workshop dinner.
Exhibition
This year we will have a small exhibition in the refreshment area.