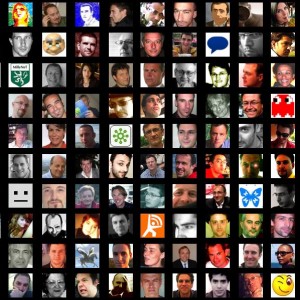 The term Web 2.0 almost seems dated.
We have been using social networking services for many years now; as individuals and on behalf of our institutions. But are we doing it right? Are we truly making the most out of the services we use or are they just a distraction with little tangible benefit.
Some of this year's sessions attempt to answer these questions.
Plenaries
Martin Hamilton, Head of Internet Services at Loughborough University, will be looking at how Embedding Web 2.0 in our institutions. Martin will walk the audience through key lessons derived from his experience leading the Google Apps implementation at Loughborough University and the Google Apps for Education UK User Group, and subsequently co-authoring an institutional Web 2.0 good practice guide.
Parallel Workshops
A session with a very long title that is worth taking a look at is Listen, Repeat, Learn: How to use Social Media Conversations and Activities to Measure and Demonstrate Impact and Improve Engagement facilitated by Nicola Osborne and Paul Milne from Edina. The focus of this hands-on session will be on how to understand, select and make best use of social media to demonstrate the impact of your organisation, project or service. During the workshop the facilitators will allow delegates to explore various tools for tracking, understanding and taking part in the social media conversations about your website, project or service. They will look at techniques for using established tools (e.g. Google Analytics, RSS feeds and alerts), in-site metrics tools (Facebook Insights, YouTube Insights, Flickr Statistics, etc.), aggregation and presentation tools (Storify, Lanyrd, etc.) and statistics and data that can be used via APIs for various social media tools.
Ever wanted to add an interactive map to your institutional web site of your campus allowing students the ability to zoom in and out and pan around the map? Or maybe you'd like to provide simple measurement tools to measure the distance from one campus building to the next? In the parallel session on Enhancing your institutional web site with interactive mapping Addy Pope from GoGeo will help you do so at very little cost. This session will show you how to integrate the open source mapping software 'OpenLayers' into your web site and how to pull into that EDINA's new Digimap OpenStream – a free web mapping service for members of higher educational institutions based upon Ordnance Survey's OpenData products.
Looking more at social networking and less at Web 2.0 the Web cooperative session will consider how the central 'web team' can provide leadership by educating, training, and enabling colleagues at all levels across the organisation. The session will consider how the digital presence of the institution best managed and led and whether it can be improved through management reporting, policies and frameworks, internal processes, procurement, staff training and communication, cooperative working and peer support.