Last week was Universities Week, a national campaign demonstrating the benefits of universities within UK society.
Friday was 'Inside Big Ideas' day and Universities were encouraged to throw open the doors and bust some of the myths about campus life in a 21st-century university. Staff and researchers at the University of Bath took part in a 24 hour Twitter marathon tweeting about the they work carry out by using the tags #UniWeek and #UniofBath.
Not wanting to be left out the @iwmw twitter feed published a series of tweets about IWMW's work over the past 15 years.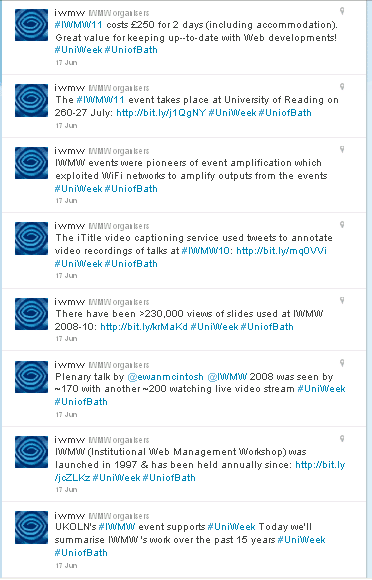 All the tweets were geo-located to the University of Bath. Brian Kelly has written a blog post about the #UniWeek Twitter Marathon entitled Evidence For The #UniWeek Campaign.
For more information on IWMW and Twitter see the IWMW Web site.