Institutional Web Management Workshop 2012:
Embedding Innovation
Evaluation
User feedback on IWMW events is important in order that we can maintain the high standard. We therefore strongly encourage participants to complete the evaluation forms.
A blog post summarising the key findings has been posted on the UK Web Focus blog. Further information is given below.
Overview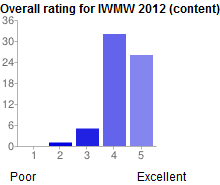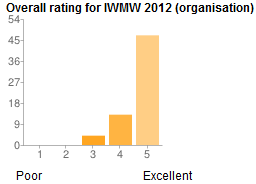 The histograms give the overall ratings for the IWMW 2012 content and organisation. This is based on 74 completed evaluation forms.
General Comments: Organisation
Very well organised event, working like clockwork!
Well organised. Kudos.
Really well organised and a big shout out to the catering staff who rustled up some lovely gluten and dairy-free lunch for me!
Very efficient.
Not sure about starting with parallel sessions
Should have coordiinated the organising the taxis at the end of the event.
very smooth, under 1 roof, the technology worked well.
The conference largely ran to time except for the University of Cambridge presentation which over-ran by 15 minutes. There was a general feeling that the chair should have stepped in and ended the presentation.
Well organised. VERY MINOR point – would have appreciated tea/coffee before 9am.
I can see why the the introduction was late on Monday afternoon, but a quick orientation of the conference might have been nice to start things off – Monday did feel like a bit of a pre-conference day in some ways.
Good as always. I don't think Edinburgh is optimised for people drinking a lot of water though, as it always seemed to have run out. Could have done with Eduroam at the accommodation.
All seemed to run very smoothly. Wasn't quite prepared for all the walking (but it's good for me!) and the weather was a very pleasant surprise! Conference dinner very impressive and ceilidh great fun.
"Spectacularly organised as ever. Everything seemed to run really smoothly from meeting up with everyone on the Sunday to getting bits and bats for our session to lunches and so on.
Well done all!"
Spot on
I liked the central venue which was easy to find and get to by public transport.
"Generally very good.
Only gripe was only paid for wifi in halls and unable to VPN over Eduroam."
One of the best (if not the best) organised events I've gone to. Organisation experience showed and the format of work shops and plenaries over the 3 days worked well. One slight tweak might be to have a later start on day 2 or move conference dinner to day 2?
Please can next year's venue be much nearer to the accommodation? Pretty please?
"I think we were perhaps a little fortunate with the weather. I think rain would have made travelling to and from the accommodation a bit of a nightmare!
Also disappointed not to have wifi in accommodation."
"V surprised that there was nothing on the website until ?Monday about streaming or attending remotely. Eat that dogfood!
Kirsty and co did a great job but I still felt I was eavesdropping rather than participating. Need to think where on the Greening Events report scale you are placing IWMW and make this more obvious!
Anything you can do about amplifying parallel sessions? Tweet reporters are become popular in other sectors. "
Very well organised, as always – I can't think of anything to criticise
Cannot fault the organisation of the event, well above my expectations.
Once again the UKOLN team were fantastic
IWMW organisation was efficient as ever however I cannot believe we were faced with a lack of hot water again on the morning of day two. Whilst appreciating that this is totally out of the organisers control, I hope that a strong message was fed back to Edinburgh's conferencing arm.
Bit far to walk between accommodation and venue.
Excellent organisation makes it easy to attend.
"The venue this year was excellent. The space available (both accommodation and conference space) were of a high standard. The food should get a special mention. The only slight downside was the distance between the accommodation and the conference.
It was nice to see a mix of old and new attendees and I know from talking to some ""newbies"" they really saw the value of the community.
For next year I would have a preference for having the event towards the end of the week rather than at the beginning.
Thanks to everyone involved for making it another fantastic event."
Another excellent, well organised event!
Very well organised. Nice accommodation, extensive breakfast. Shame there weren't any light choices for lunch or fruit on coffee breaks. Perhaps a salad box (for example).
Very well organised, everything seemed to go smoothly.
Hats off to all involved.
As always very smoothly done
"This sort of conference is quite intense – as a newbie I wanted to go to everything, especially as I was the sole representative from my institution. I could probably have let myself off the odd session. It's a lot of information to take in. I think I would have liked a bit more time for networking, as fiting it into the breaks semed to make the time fly by too fast. I did speake to a fair few people, but not as many as I would have liked.
I did find the lunch buffets a bit strange and not very varied in what was on offer! Monday night's dinner and ceilidh on the other hand was a joy!
Genrally the whole event seemed very well organised and ran smoothly from where I was sitting."
good organisation throughout
Great to see lots of new faces and some old ones too. Edinburgh did themselves proud, the food and dinner where excellent. I'd never done ceilidh dancing before and I absolutely loved it, even though I couldn't walk much the next day. One of our team climbed Arthur's Seat at 5am we where that inspired.
well run, lots to do, ideal venue
Amazing organisation, great location and accommodation, and the evening meal and drinks reception were both first rate.
Struggled with accomodation booking at first but all sorted in the end. Organisation of event was first class
Also good, although it's a shame that the @iwmw Twitter account ignore my pre-arrival question
"It was very well organised and everyone was charming, helpful and organised!
The food was very good and the dinner excellent, even being bullied into dancing felt ok after a couple of glasses of wine… ."
Rooms were possibly a bit small at times, but no real complaints
"Well organised, although could have been clearer in terms of evening arrangements.
Also a larger gap between the end of the day and the start of evening activities to allow people to get back to rooms, to take time out and relax."
Very efficient, helpful and friendly
Everything ran smoothly, facilities were great. Everything was good.
I only attend every two years (as we share attendance with other members of the team). This year I missed the shorter barcamp style sessions. I find the parallel sessions interesting but far too long. I would prefer two 45 minutes' sessions rather than one long 90 minutes' session.
Excellent
No problems, very slick.
General Comments
Lots of walking – I feel so much fitter now and what a wonderful city.
Thank you to all the organisers – another great IWMW!
"1. Edinburgh is an easy location to get too.
2. Catering was great.
3. Weather was fab too.
4. Halls of residence were nice and quiet. No banging doors!
5. A bus to and from Pollock Halls with the luggage was much appreciated."
"It would have been nice to have one outstanding speaker that gave a really inspirational talk as a kind of keynote. The general topic of the conference was embedding innovation, but I'm not quite sure how much of that was reflected in the topics. It was more about data and how we use it.
All in all a good conference though. Roll on next year!"
A great conference, good topics, there is so much going on just now in our field(s) i did not feel i wasted a minute. Thank You
Very good. I would have liked to have seen some more of the workshop content in the plenary sessions – making choices was difficult.
A thoroughly enjoyable and rewarding conference. Thank you to Brian, Natasha, Michelle and all the speakers and delegates
"A thoroughly enjoyable and inspiring 3 days. Am always amazed and impressed by how willing everyone is to share and hope that people got something out of what I shared also. Can't wait for next year.
The only thing I'm never to convinced by is the second drinks reception! I wonder whether something less formal like a pub quiz or similar would get people chatting a bit more?! But that's just me."
"It would be good to have forward thinking talks. What can we do… rather than what we are doing, Thats why "" do i need an app for that worked so well""
Overall good and will be coming back. Thank you"
Congratulations to the IWMW team, a very worthwhile and stimulating event
"Excellent, and covered very up-to-the-minute issues, as ever. Thank you to everyone for organising. Hope to see you all again next year! :)
P.S. To whom it may concern:
Please, please, please. please, please keep funding this event. It is a lifeline to HE institutions and their hard-working web-related staff. It is the only event on the calendar which really gets to the heart of the issues we are all looking at, at the time we are looking at them."
Thanks again for all your hard work on the conference and for making it possible for someone in Denmark to eavesdrop, if not attend!
Would love to come again next year, I had a really good experience and it was good to meet like minded people working in similar roles within the Education sector
"Reasonably well organised but presentations were generally poor…as ever, gained more from networking.
Should be condensed into two full days with free time at some point to brainstorm with those using same CMS etc."
Great conference. Bring on the next one!
I have not attended recent events so it was really helpful to catch-up with the sector.
Very good overall, Edinburgh was great!!!
Perhaps too many parallel sessions – there were normally two that wanted to see. Some were a bit overlong for the content too. Perhaps if same number are kept, have them half length with 3 at a time, so people can see more or them?
Some of the parallel and also plenary sessions would definitely benefit from being shorter. Perhaps consider having double parallels sessions for those that need a long time, and create more, shorter sessions for the rest of the time? Also it would be fun to do a barcamp-style session so that everyone contributed – not sure how practical that would be to arrange but would be very interesting!
Looking forward to the next one.
"Would have liked more but shorter parallel sessions – maybe like the bar camps where it would be possible to try some code and leave it there.
The broader talks are hard to be relevant to everyone. Would have liked some more about content and how important it is. Content and brand strategy are areas that I think will be very important as content providers start to realise their responsibilities."
I will definitely recommend other team members go to IWMW in future. It definitely helped to share others' experiences and practice. Very inspiring! I came away with a renewed sense of purpose.
came away fired up with lots of ideas to bring home to improve our services
Fantastic, another notch on the IWMW post.
Good overall conference. Hopefully can attend next year.
"Thought it would have been better to have had enough seating for more (preferably all) delegates to sit down during breaks and especially over lunch."
"As you can see from the above: a happy customer.
And the accommodation was great, too.
Did you organise the weather as well? – ;-)"
Excellent conference, I'll definitely be coming back next time!
"Overall, I think the event was great. It would have been far more enjoyable had I not been involved myself and could relax but that is me nitpicking.
Hope to be at next years as these events give me the opportunity to understand the sector more and more. Even more than in my own institution as we get to see the whole sectors viewpoint.
Well done all."
I know you can't please everyone, but the format seems to best suit those who enjoy lectures. It doesn't seem to make much space for people with other learning styles. I need smaller group and one-to-one time to talk and think through issues and I didn't find much space for that at IWMW12. By the time we'd heard about something we were then racing off to the next thing.
Thanks for an amazing learning and network experience. Will be bringing the whole web team next year!
Looking forward to IWMW 2013