Institutional Web Management Workshop 2012:
Embedding Innovation
Technologies for IWMW 2012 Participants
As in previous years, the IWMW 2012 event organisers will be supporting a variety of technologies in order to enhance the experience of the event. This page provides details on the technologies which can be used.
Accessing the WiFi Network
Note that use of the WiFi using eduroam is described elsewhere. You should also note that use of the WiFi network is subject to the event's AUP (Acceptable Use Policy).
Twitter
As in previous years we will be using Twitter to support the event. Please note the following:
The Twitter hashtag for the event is '#iwmw12'.
The official IWMW Twitter account is '@iwmw'. Feel free to follow this account. We may follow you back which would allow us to send you direct messages (DMs). We will only do this in there is a legitimate need to do so.
We hope to provide an official live Twitter stream of the plenary talks. This will be provided by the '#iwmwlive' account.
We will also set up a iwmw12 Twitter list.
Lanyrd
A Lanyrd page for the IWMW 2012 event has been set up. As described in a blog post which asked Why Would You Not Use #Lanyrd For Your Event? this will provide:
A calendar of the sessions
A mobile-friendly version of the event information
A social network based on your Twitter ID, so that you can see which of your followers are attending the events - and other events they have attended.
A means of recording your participation at previous IWMW events.
Note that Lanyrd app is available for the iPhone/iPad platform. In addition a mobile web interface is also available.
Shhmooze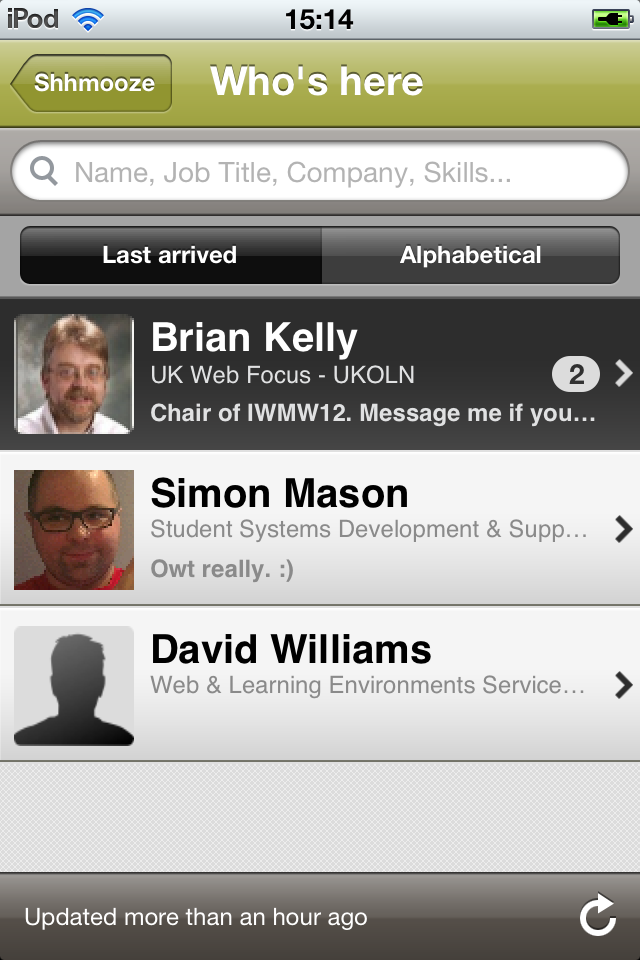 As described in a post entitled Shhmoozing at Metrics and Social Web Workshop the Shhmooze app can provide a location-based communications service which is designed for use at events.
Feel free to check in to the IWMW 12 page on Shhmooze as soon as you have installed the app - not need to wait until you've arrived at Edinburgh. You can then describe who you are and what your interests are - and chat to other people who have signed in - without having to post to Twitter.
Note that Shhmooze app is available for the iPhone/iPad and Android platforms.