Institutional Web Management Workshop 2012:
Embedding Innovation
Sponsorship
The Institutional Web Management Workshop (IWMW) series provides an opportunity for members of institutional Web management teams within (primarily) the UK's higher education community to enhance their professional skills, to learn from their peers and to share best practices across the community.
The event is supported by a number of sponsors of the event who help to contribute to the range of activities provided at the workshop.
Details of the IWMW 2012 sponsors are given below.
Jadu

Jadu is a leading global provider of Web Experience Management software, specialising in CMS, Forms, Search and Mobile for enterprise websites, Intranets and extranets. Jadu powers hundreds of higher education, government and private sector organisations across the world and is a leading innovator in providing customers with the tools needed to simplify and empower the web publishing and management process.
Innovation is a key driver in the ground breaking functionality delivered by Jadu solutions which include - mobile web app delivery, integrated online forms, mash up page design, integrated Google search, personalisation, full statistical reporting, web standards compliance, accessibility compliance, product and catalogue management, along with a host of other web productivity tools and unparalleled support service. Jadu MarketPlace enables users of the Jadu platform to access and implement new functionality and integration much more easily through web widgets (apps), re-usable mobile apps, web parts and forms.
For more information visit: http://www.jadu.net/
Jadu are sponsoring the badges and lanyards at IWMW 2012.
Statistics into Decisions

Through clearly comparable statistics and analysis, Statistics into Decisions provides its clients with unrivalled insight into their campaigns and online activity. Their underlying ethos is to bend the technology available to fit into your requirements, rather then you having to bend to fit the technology.
Whether it is web analytics, email, paid search or any other campaign - all should be optimised and comparable.
Statistics into Decisions are co-sponsoring the event amplification at IWMW 2012 and the design of a IWMW 2012 poster.
For more information follow the: @sidspaceinfo Twitter account.
TERMINALFOUR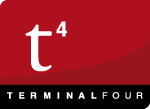 TERMINALFOUR is a leading provider of Web Content Management Solutions (WCMS). Our flagship software, TERMINALFOUR Site Manager, is a WCMS specifically built for Higher Education. Our software enables organizations to improve the creation, flow and delivery of accessible information through various channels including Web sites, personalized student/staff portals, intranets, extranets and utilizing technologies such as Smart Phones. The software provides you with a large number of modules specifically built for Higher Education, including course catalog and prospectus publishing but also integration points with solutions such as Blackboard, Sungard/Banner, Oracle, Angel and Datatel. We have a strong presence within the Higher Education sector powering thousands of individual Higher Education websites and empowering more than 10,000 HE users to manage their website content.
For more information please contact info-uk@terminalfour.com.
TERMINALFOUR are sponsoring a parallel session at IWMW 2012.
Gas Mark 8

Gas Mark 8 is a new consultancy offering bespoke web solutions, including WordPress, digital signage, email and video analytics for institutions of higher education, non-profit organizations and small businesses in the United Kingdom and United States. In fact, the founders of this company (based in England and the US), met at IWMW 2009.
Contact details for Gas Mark 8 are available on their web site at http://gasmark8.co.uk/. Their Twitter account is @gasmark8
Gas Mark 8 are co-sponsoring the event amplification at IWMW 2012.
For more information follow the: @gasmark8 Twitter account.
Siteimprove

Siteimprove provide web management tools to well over 1500 organisations worldwide, and more than 40 educational institutions in the UK; including London School of Economics, City University London and Newcastle University.
Our customers tell us they value our easy-to-use products because they save them time, are affordable and they appreciate excellent customer service.
Siteimprove products are designed to fit into the everyday work requirements of a person involved with the management and maintenance a website. Information can be shared as well as responsibilities and tasks delegated. With a few simple steps you can ensure each user of the service receives only information relevant to their specific area of responsibility on the website.
Our products cover the following areas:
Siteimprove Quality Assurance - Detect broken links and mispellings
Siteimprove SEO - Improve your search rankings and discover user habits
Siteimprove Analytics - Get thorough user statistics and detailed real-time information
Siteimprove Accessibility - Review accessibility errors
Siteimprove Response - Monitor your key pages 24/7 for downtime
Siteimprove Enterprise Search - Ensure users find most relevant content
We offer free demos on all our services. You can ask us to set up a demo or see one of our products in action on a University site at our exhibition stand.
Tel: 0845 226 8050 Web site: Twitter: @SiteimproveUK
Siteimprove are providing inserts in the delegate pack at IWMW 2012.
---
Exhibition
The IWMW 2012 event will feature a small exhibition in the refreshment area. In addition to the IWMW 2012 sponsors the exhibition will include displays provided by the following:
Navopia

Navopia is the trading name for Keith Doyle, freelance information architecture trainer and consultant - specialising in navigation design, responsive user experience and remote usability testing.
Squiz

Squiz create effective and usable web solutions, enabling organisations to manage and optimise online engagement with their users. The solutions are built with the Squiz Suite, a powerful web experience management platform which incorporates CMS, analytics and integration tools. Squiz also create leading edge website and enterprise search solutions with Funnelback Search.
All Squiz solutions are supported with a full set of professional services including consulting, design, development, implementation, training and global 24/7 support, ensuring that clients meet the needs of their users and achieve their business objectives.
Squiz and Funnelback work with some of the world's leading universities and institutions including the University of Oxford, the London School of Economics, the University of Bedfordshire, City University and UCL.
For more information see http://www.squiz.co.uk/